Navigation: Inhalt der Rubrik Europa auf einen Blick
- Anzeige - Wikinger Reisen: Donau - Mallorca - Korfu - Jersey - Südtirol - Sri Lanka - Nordfriesische Inseln - Alpenquerung Augsburg-Gardasee - Klicken Sie sich hier zu den Wikinger-Infoseiten.
- Anzeige - FRANCE-BIKE: Nicht Masse, sondern Klasse. Qualitätsvolle Radreisen in Frankreich und in ganz Europa. Mehr über die Reisen von France-Bike hier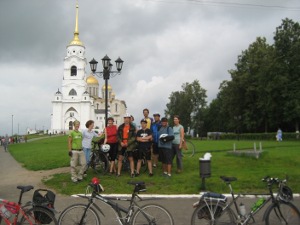 Russland entdecken:
The Russian Cycle Touring Club (RCTC) is a not-for-profit social organization which joins bicyclists with different interests: road cycling, family cycling, "severe" cycling, and so on. We promote touring cycling in Russia among the world.
We are ready to provide information and help for foreign cyclists in respect of cycle touring in Russia. We have extensive experience both as tourists and as organizers of bicycle tours, not only throughout Russia, but also elsewhere in the former Soviet Union, as well as in other countries. We already have friends all over the world. We are a full member of the European Cyclists Federation since 2004. Website: www.rctc.ru
We can help you in the following ways:
1. Information and Cycle Partner. If you plan to cycle in Russia and need some help or any information about cycling in Russia or are looking for "fellow travelers", please contact us. It is possible that even some of our members might be interested in joining you on your trip.
2. Adventure and Full-Supported Bicycle Tours in Russia. Each year we arrange several tours to some of the most interesting places in Russia. We also organize bicycle tours to other countries. (more)
3. Unsupported club rides in Russia and other countries are arranged by our club each year.
4. Custom Tours. We can arrange tours for individuals or groups according to your requirements. Amongst our members are experienced guides and interpreters who can accompany you.
5. Joint Programs. We are looking for organizing joint tours and programs throughout the world with your group or club. Please share your ideas with us.
6. Exchange Visits. In Moscow you can stay at homes of RCTC members, join us for a bicycle tour and then at a later date host our club members. This is probably the best way to travel: both the most interesting and the least expensive.
7. Visa Support. RCTC can help with visa support to enter Russia. (more)
8. Weekend Bicycle Rides. From April through October RCTC invites visitors, students, expatriates and their families, who live and work in Moscow or stay here temporarily, to take part in our free weekend bicycle rides along scenic roads in the countryside near Moscow (the schedule, in Russian, is available here). You don't need to be a trained cyclist, but you must have your own bicycle. (If you are interested in purchasing a new or used bicycle, are looking for parts, accessories or service for your bicycle, or need camping or cycle touring equipment, we can give you information about these things.)
The Russian Cycle Touring Club has many other interesting projects. Please don't hesitate to contact the RCTC and get more information about our activities. Come visit our club: we always like to meet new faces. You can even become a member of our club.
Text und Bild: Russian Cycle Touring Club, Moskau